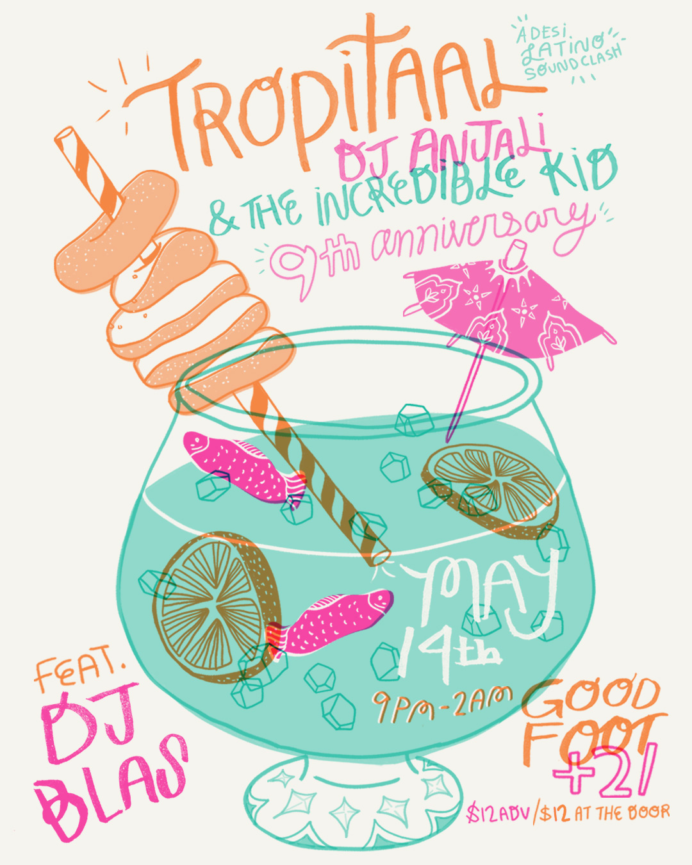 DJ Anjali and The Incredible Kid present the nine-year anniversary of Tropitaal, their Desi-Latina Soundclash at the Goodfoot.
Featuring special guest DJ Blas and dholi Adam McCollom.
Tropitaal: Desi-Latina Soundclash
Saturday, May 14th, 2022
GOODFOOT
2845 SE Stark St.
Portland, OR
9pm – 2 am
$12 advance and at the door
21 and over only
Take the sultry vibe of the Latin American Tropics, combine with the rhythm of India ("Taal") and stir into TROPITAAL! A Desi Latino Soundclash where the hottest club sounds from India and Latin America go head to head in an all-night dance-off of epic proportions. Resident DJs Anjali & The Incredible Kid combine their deep passions and deep crates from across the spectrum of Latin, Caribbean & South Asian vibes. (Bhangra, Future Filmi, Reggaeton, Moombahton, Electro Cumbia, 3Ball, Latin Trap, Dancehall, Dembow, Desi Bass & more.)
"One of Portland's favorite dance nights is making its return. Hosted by stalwart DJs Anjali and the Incredible Kid, Tropitaal mixes club music from India and South America—everything from urban desi to trap and reggaeton." – Willamette Week 8/11/2021

"For seven years now, DJ Anjali & The Kid have been commandeering the Tropitaal Desi-Latino Soundclash to the delight of knowing Portland audiences." -Portland Mercury 5/16/2020
***
DJ BLAS
DJ Blas has been passionate about music since his childhood in Venezuela. He grew up surrounded with a family full of musicians, not by profession, but by heart. His love for music continued growing and expanding to different influential rhythms such as reggae, salsa, funk, Spanish rock, new wave, pop, alternative, and many others. Back in Venezuela, during his college years, DJ Blas was known to bring people together with music and good vibes. In the basement of the Jack London Bar around 8 years ago, DJ Blas started his first gig in Portland. Since then, his Soulsa Latin Party has been a monthly staple of the Portland night life. You might have seen him mixing some beats and packing the dance floor at Eastburn in SE Portland. Dj Blas loves to focus his energy on bringing people together, creating an environment of unity, diversity and positivity with music and dancing. Due to his knowledge in many different styles of music and genres, Dj Blas is sought after for multicultural events and weddings. Lately, the forced pause of live events, made him create other avenues to keep his passion alive by streaming live DJ sets on several social media platforms. DJ Blas also used this time to reconnect with his roots and find rhythms that perhaps were a bit forgotten due to a busy life. Now some of these rhythms such as bossanova, latin funk, ska, gaitas, old school salsa, and cumbia can be heard on his current sets as a tribute to this influential music. His latest show featured him opening for his favorite Latin funk band Los Amigos Invisibles!