DJ Anjali & The Incredible Kid's
New
Year
's Eve Dance Party
featuring Orquestra Pacifico Tropical
Brown Calculus
and dholi Adam McCollom
plus the Gulabi Gang dancers
This party marks the 22nd anniversary of Anjali and The Kid playing in Portland clubs as a duo since their
New
Year
's Eve debut in 2000.
"DJ Anjali & The Kid have been a staple of Portland, Oregon's club scene for almost two decades, creating spaces for DJs and dancers to enjoy an international mélange of music ranging from bhangra to reggaeton." -Remezcla 12/26/18
"Whether it's the Desi-Latino Soundclash: Tropitaal, the Bhangra Bollywood dance party: ANDAZ, or her annual NYE rager, Anjali is the premier Portland dance DJ." Eleven PDX 4/8/19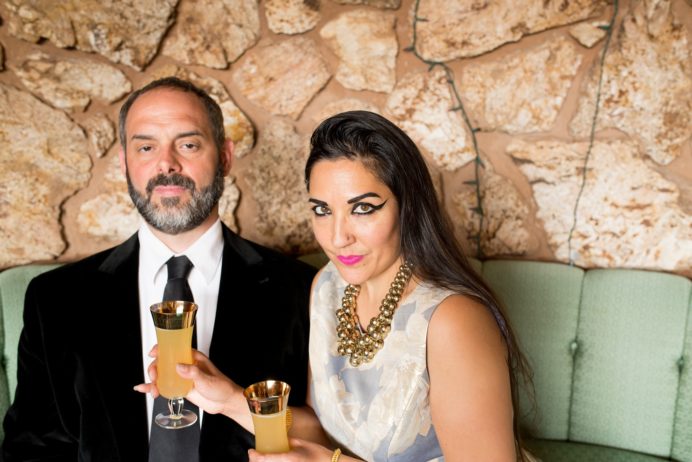 Saturday, December 31st, 2022
Wonder Ballroom
128 NE Russell St, Portland, OR 97212
Show 9PM – 1:00AM
$35 advance, $40 day of sale, $45 at the door
Note: Tickets are now available at Music Millennium without fees.
Advance and day of show tickets purchased at the Wonder Box Office are subject to a $2 service fee.
ORQUESTRA PACIFICO TROPICAL
Orquestra Pacifico Tropical is comprised of 10 homies who get together to share their boundless love and respect for the genre of Cumbia and what that means to them, living in the city of Portland, Oregon. Reconstructing & reimagining those gorgeous archaic jungle rhythms that span from México to Peru and to Colombia, the ensemble brings an onslaught to any stage across the nation with their own reinterpretation of this magnificent sound.
BROWN CALCULUS
Brown
Calculus
is an intergalactic duo who explore the soundscapes of the post-soul movement. Keyboardist and beat maker,
Brown
Calvin, and singer/songwriter,
Brown
Alice, are Geminis, illuminating the sacredness of Black music, seeking to bring about community on Earth and beyond. They reveal the connection between complicated time signatures and Black divinity, with a cosmic sound that remains grounded. Sharing the same body in their past lives, they perform with melanated synergy. In the Fall of 2017 they released their debut EP,
Live at The Map Room
, via Konduit Records. This intimate recording gives a glimpse into the jazzy universe of
Brown
Calculus
, who share an uplifting message of healing love.
ANJALI AND THE GULABI GANG DANCERS