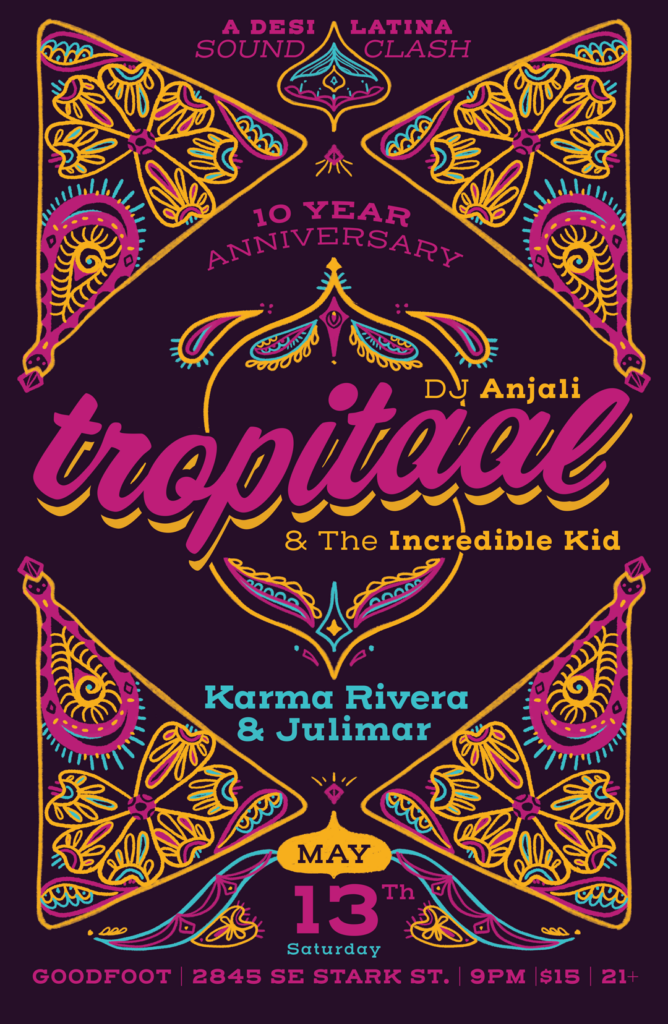 Tropitaal 10-Year Anniversary Desi Latina Soundclash
Saturday, May 13th, 2023
DJ Anjali and The Incredible Kid
Karma Rivera
Julimar
GOODFOOT
2845 SE Stark St.
Portland, OR
9PM – 2AM
$15 advance & at the door
21 and over only (with proper ID)
Take the sultry vibe of the Latin American Tropics, combine with the rhythm of India ("Taal") and stir into TROPITAAL! A Desi Latino Soundclash where the hottest club sounds from India and Latin America go head to head in an all-night dance-off of epic proportions. Resident DJs Anjali & The Incredible Kid combine their deep passions and deep crates from across the spectrum of Latin, Caribbean & South Asian vibes. (Bhangra, Dembow, Future Filmi, Reggaeton, Funk carioca, Moombahton, Electro Cumbia, Tribal Guarachero, Desi Rap, Latin Trap, Dancehall, Chutney, Bollywood, Desi Bass, Brega & Diaspora party classics.)
"One of Portland's favorite dance nights is making its return. Hosted by stalwart DJs Anjali and the Incredible Kid, Tropitaal mixes club music from India and South America—everything from urban desi to trap and reggaeton." – Willamette Week 8/11/2021
"For seven years now, DJ Anjali & The Kid have been commandeering the Tropitaal Desi-Latino Soundclash to the delight of knowing Portland audiences." -Portland Mercury 5/16/2020
"DJ Anjali & The Kid have been a staple of Portland, Oregon's club scene for almost two decades, creating spaces for DJs and dancers to enjoy an international mélange of music ranging from bhangra to reggaeton." Remezcla 12/26/18
Karma Rivera has made herself a local star by proving she has range: pop-flavored Hip-Hop, melodic trap-like instrumentation, and Latin-infused dance music all percolates through. The rapper, who rose to prominence in Portland gaining praise from tastemakers We Out Here Magazine, Numberz FM and the Portland Monthly after a series of single releases and buzz worthy show performances. Karma Rivera has emerged as one of Portland's most euphoric talents, proving the allure of her ability to bring clever punchlines and lyrical grit to the modern, pop-leaning rap genre while upholding the roots of the Golden Age's focus on lyricism.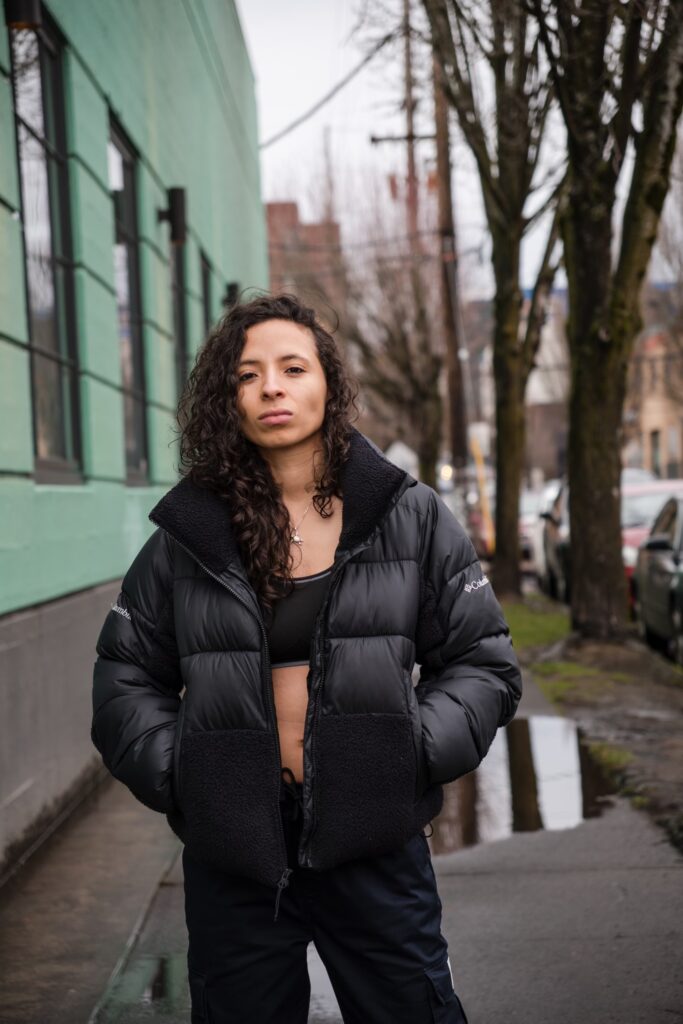 Julimar is a self made artist who brings diversity and sazón to her music. She is an intentional, passionate, and creative Rapper/Songwriter from Maracaibo, Venezuela.