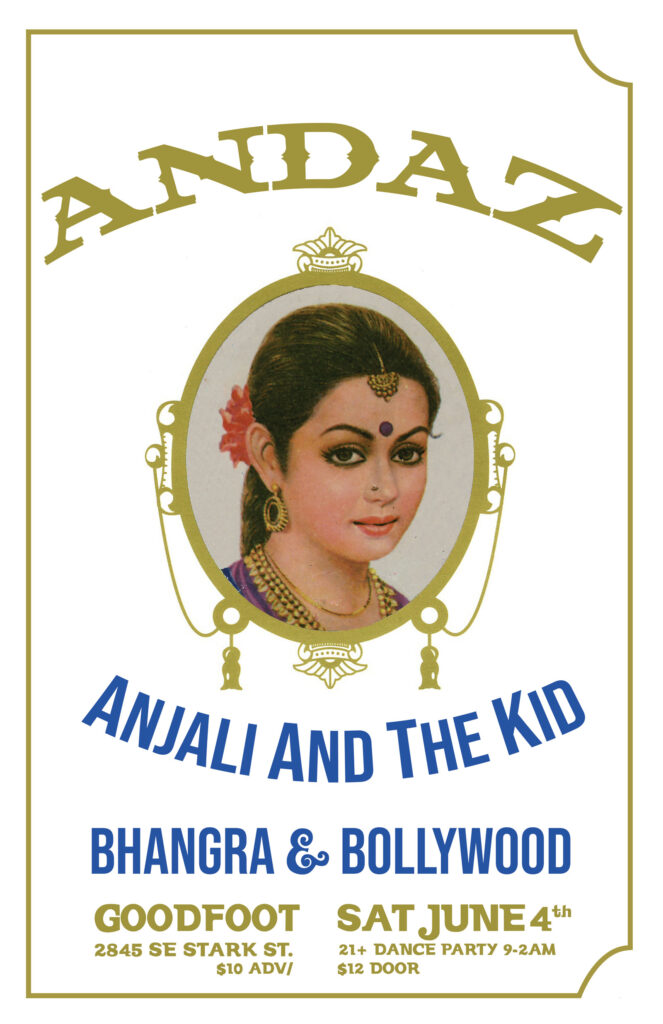 The world's longest running Desi dance party is a Portland original, a transportive experience that has enraptured feverishly dancing Portland crowds since 2002!
**ANDAZ will be celebrating its 20-year anniversary 7/23 at the Star Theater.**
ANDAZ
Portland's Original Bhangra, Bollywood & Desi Bass Dance Party

Featuring resident DJs
Anjali & The Incredible Kid
Saturday, June 4th, 2022

Goodfoot
2845 SE Stark Street
(503) 239-9292
$12 / Age 21 And Up
ADVANCE TIX HERE!
9 pm – 2 am 
"Known for fusing heart-quaking electronic with bhangra—a genre with roots in the traditional folk music of the northern Indian state of Punjab—and the soundtracks of Bollywood films, DJ Anjali and the Incredible Kid's dance floor sites are sweaty, glorious chaos." – Portland Mercury 4/18/2020
"Their long-standing Andaz party has become legendary" – Willamette Week 6/5/19"Whether it's the Desi-Latino Soundclash: Tropitaal, the Bhangra Bollywood dance party: ANDAZ, or her annual NYE rager, Anjali is the premier Portland dance DJ." – Eleven PDX 4/8/19
"Andaz, the longest-running bhangra and Bollywood dance party in the world (and one of the wildest opportunities to shake your bum in Portland)." – Portland Mercury 7/27/18
"After 18 years as a duo, DJ Anjali & the Incredible Kid are a Portland institution. It's difficult to think of a local dance night with a more lovingly crafted mix of Bollywood, urban desi and Indian dance pop." – Willamette Week 9/19/18
"the legendary DJ Anjali" – Portland Mercury 1/24/18
"One of Portland's most revered record-spinning duos" – The Portland Mercury 12/31/17
"The West Coast's king and queen of bhangra/global bass/Bollywood dance parties, DJ Anjali and the Incredible Kid." – The Portland Mercury 8/17/16
"For more than 15 years, DJ Anjali and the Incredible Kid have been an inimitable force in the Portland dance scene." – The Portland Mercury 6/22/16
"Anjali and The Incredible Kid, Portland's resident top Bollywood and bhangra deejays." – The Portland Tribune 3/12/15
"DJ Anjali & the Incredible Kid have been Portland's leading world music DJs since the turn of the millennium." – Willamette Week 12/31/14
"Portland's finest purveyors of Bollywood, bhangra and global bass music." – Vortex Music Magazine 10/12/14